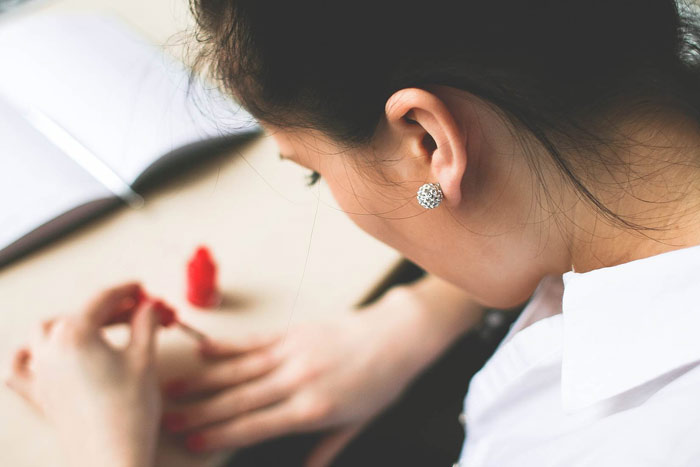 Every woman aspires to look wonderful. Even when she says that she does not care about it. Looking good without any financial expenses is a double dream. Yes, all of us have been taught from childhood that beauty requires sacrifice, including cash. But still, sometimes an unexpectedly pleasant effect can be obtained without buying super-expensive products you see in advertisements. The main thing is to be able to use your cosmetics in an unusual way. These tricks are used even by professional make-up artists!
Sometimes a typical cosmetic bag conceals a lot of alternatives. Do not be afraid to see the hidden potential of your cosmetics or to experiment – and the result may please you!
1. More than just powder
Most makeup artists prefer working with mineral powder. After all, it not only helps to create a "soft-focus" effect on the face (if you use a voluminous, densely packed brush), but can easily replace dry shampoo, giving your hair extra volume. And there the trick of applying a small amount of powder on the lashes before applying mascara. Even our moms know about it. They used it to create a languid gaze, just like Brigitte Bardot.
2. Balm for everything
The effect of glossy, wet skin is one of the main trends this summer. If you also want to give your face a fresher look, however far your vacation was and however unwilling you were to spend money on a trendy highlighter, Hollywood makeup artists have good news for you: the secret of "wet" skin is already in your makeup bag. It is a lip balm. Apply a little on the cheekbones and even on the eyelids to achieve a gloss effect. Lip balm will also help you make creamy blush easily – just apply it on top of the usual blush and blend thoroughly.
3. More moisture
There is another professional trick in support of the radiance trend: if the foundation or concealer is too thick, add a little light moisturizing cream. So you will get a much more natural coverage with a light wet finish.
4. Velvet lips
Dull matte lipstick is still popular with most girls this summer. To diversify this trend, which has become a little stale, makeup artists offer an unusual idea: apply a small amount of blush or shadows of similar color over your favorite lipstick. So you will get a velvety finish and an unusual color depth.
5. Eliminate the "matte effect"
Applied too much powder or unexpectedly received the effect of a "dusty peach" after using the foundation? Spray thermal water or a moisturizing mist directly over the makeup. The product will remove excess makeup and add the coveted radiance.
6. Beauty blender
The dream of all beauty bloggers, most make-up artists' assistant, and simply a best selling products on aliexpress. Suffering from flaky skin even in summer? Then apply foundation only with a "magic egg". It allows you to mix the product directly with natural sebum. It sounds a bit … um … disgusting. But in the end you get an even, slightly moist skin tone and no peeling!
7. Bronze look
Lacking time in the morning for a full eye makeup, but always sparing a minute to draw nonexistent cheekbones? Combine business with pleasure: apply a little bronzer as eye shadows. You can even use the same brush. Just a few light strokes without blending – and this will be enough to make your look warmer. Besides, your make-up will be remain unnoticeable at the same time.
8. Red vs. blue
Sleeping so little that natural blue circles under your eyes have replaced your eye shadows? Enough! To mask them effectively, take a concealer and mix it with a small amount of red or orange lipstick. Extravagant enough, but that works! No magic, simple coloring.
9. Retain the lipstick within the contours
For the lipstick to remain on your lips as long as possible, never forget using a lip pencil. And it can also be used to make your lips bigger, but now we are talking about a different thing. It turns out that there is an even more effective alternative to the usual lip pencil, and it is… a wax eyebrow pencil. It is colorless, easy to apply, but it lasts long and prevents lipstick from escaping the defined contours even on the hottest day.
10. More is better
If you follow beautyholics in social networks, you have probably noticed how popular lush eyelashes have become. Would you like to achieve the same instagram effect? Professional makeup artists recommend choosing two modest, natural-looking pairs of eyelashes and simply connecting them, instead of buying the thickest and heaviest pair in the store.